SPORTS UPDATE: Playoffs in sight for Girls volleyball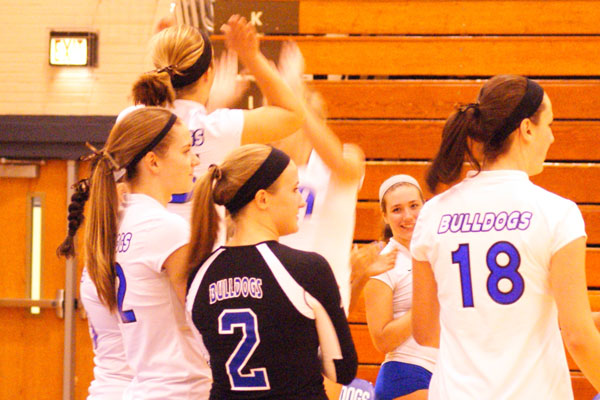 As expected, the girls' volleyball team has lived up to all the hype coming into the season. Coming into 2011-2012, they were expected to compete for the Metro Suburban Conference title, and at this pace, it looks as if RB will bring home another title.
The girls have started the season 13-7 overall and are 4-1 in conference play with victories over Elmwood Park, Fenton, and Ridgewood. 
After losing a bulk of the starters from last year to graduation, Alleigh VandeMerkt and Elena Duve have stepped up their play to lead the Bulldogs. Both girls have been named Athlete of the Week because of their stellar play and leadership on the court.
Playing through a shoulder injury for the past two and a half weeks, VandeMerkt has toughed it out and continued to bring home victories for RB. Against OPRF, she had 10 assists, 6 kills and 12 digs in a huge road win.
Sophomore Amanda Lelivelt has really come on lately with her excellent play at middle hitter. She contributed with 4 kills in a victory over Elmwood Park.
The Dogs have several tournaments coming up including the Wilmington High School Fall Classic on October 8th and the Maine West Pumpkin Invite on October 14th and 15th.
On the 20th, the final regular season game, RB takes on Morton in the annual "Volley for the Cure" game. In the past four years, RB has raised over $13,000, all of which goes towards Breast Cancer research.