EVERY STUDENT HAS A STORY: Jack Hansa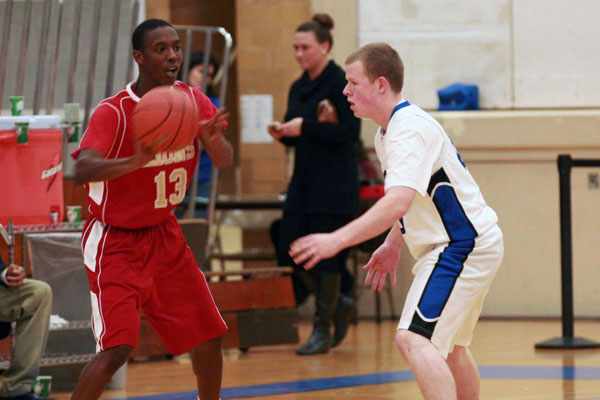 Even though forward Jack Hansa played on the freshman and sophomore basketball teams, he knew it was a longshot to make the varsity team in his junior year.  Going into tryouts junior year, he was hoping for the best, but still in touch with reality.
"It was tough, going into it. I knew my chances weren't high," said Hansa, "but I knew I had to stay committed to the program if I wanted to make it the next year."
After Jack went through the disappointment of not making the team his junior year, he still wanted to try to keep his dream of making the varsity team alive; so that season Hansa became the manager for the freshman team.
"Coach [Brian Kuziner] came up to me and told me that he'd like me to be his manager. So I got involved with the program to help my chances for next year," Hansa said.
That off-season the coaches allowed Hansa to join the Bulldog's Ameteur Athletic Union (AAU) team.  In addition to playing for the AAU team, he also began a grueling weight lifting regimen organized by the basketball team, went to every open gym he could make, played for the summer league, and gave his all in hopes of making the team.
When tryouts came along, Hansa was in great shape, and was ready to finally make the team.  All of Hansa's hours of training, his helping out with the younger players in the system, and most of all; his loyalty to the program, finally paid off.  While there were many doubters, Hansa finally made the team.
"It's been so sweet to prove them wrong," said Hansa.
Hansa has seen little playing time throughout the season so far, but when RB was in the midst of a  blow out against  Fenton on November 30, the 6th Man started chanting Hansa's name. After a few minutes of emphatic yelling in hopes of getting Hansa in the game Coach Tom McCloskey finally gave in to the 6th Man's demands. Hansa got in, drained a 3-ball, and the place went wild.
"It felt good.  I didn't even realize how loud and crazy it was until my dad showed me. It felt really good to see all of the support and love," said Hansa.
When asked what his goal for the season was Hansa said, "Just push the guys in front of me, so we can win a conference and a regional championship."
Hansa knows his role with the team and embraces it,  and although there has been lots of adversity, Hansa has never given up. Whether it's helping out with the younger players or hitting a big 3, Jack Hansa will do anything possible to help his team out.