POINT: Young Life, a cult? Really?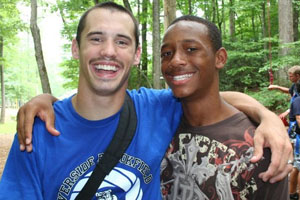 READ KELLY KRAMER'S COUNTER OPINION ON YOUNG LIFE.
As October rolls around, high school students around the country look forward to Friday night football games, Homecoming, and fun hangouts with friends. Here at RB, October means Young Life, which in turn means the constant harassment of the club from students who call it a cult.
It remains a mystery how this rumor was started and where it came from, but it is completely false. A cult by definition is a system of religious or spiritual beliefs regarded by others as unorthodox, extremist, or false.
Extremist?
Young Life?
Young Life plays a large role in our everyday community. Every student, teacher, and administrator at RB has heard of Young Life one way or another. It's hard not to. Announcements are made all week about the upcoming meetings. The students here at RB who are involved in Young Life are absolutely infatuated with the club.
How do those in Young Life feel when their club is called a cult?
"I just try to tell them not to judge something until they try it and that we would love to have them attend," said Senior Nick Lazzara.
I attended the 1st club this past Wednesday, and I can tell you, there is nothing extremist about what they do. The night consists of singing, dancing, skits, and a religious theme. Unless dancing and singing aren't socially acceptable, then it's a fair assumption to say that Young Life is by no means a cult.
We are living in the 21st century, people. It's time for everyone to wake up and stop judging what they haven't tried. Young Life is a club of acceptance and friendship. They don't judge anyone and accept people for their religious beliefs, no matter what they are.
Why is it then that they take constant bashing from our students?
You don't have to like the club.  You don't even have to show up. But is it right to bad mouth a club who has never forced anyone to come, a club where everyone is accepted, and a relationship with Jesus is promoted?
Almost everyone in Young Life loves the club and feels as if it is the highlight of their week.
"Young Life has been an absolutely incredible life changing experience for me. I've met some absolutely amazing people and I've learned so much about myself," said Senior Mary Heer.
Maybe it's time for us to look in the mirror. We might not like what we see.