RECAP: Mclaughlin represents cross country at State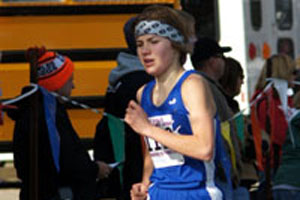 This season for the girls cross country team has been very rewarding. The girls have changed their mindset about their races and their attitudes have seemed to change their results.
Coach Kristi Sterling said, "The team accomplished all of the goals we hoped for. We were trying to focus less on times and more on the girl's feelings during their races."
The cross country team also placed second in their conference meet. This was one of the highlights of their season. The girl's competed in the IHSA sectionals meet and finished 7th place as a team. Senior Maggie Mclaughlin was the only girl's runner who was sent to state as an individual. Mclaughlin won 12th place and became one of the seven individuals going to state. Some of the girls behind her were senior Katy Linhart, junior Danielle Ulloa, freshman Deanna Keen, junior Alma Rodriguez, freshman Fiona Larson and sophomore Clare Bollnow.
Mclaughlin said, "I think this season was a success. Our pack was awesome. There were three girls under 20 minutes. We all became stronger physically and mentally. We had the best times ever."
The members of the team tried going into every race with a positive mindset. If any one of the runners had a negative thought in their head they would fall behind in their times.
Sterling said, "One of the faults of the season was when the girls would over think runs. They'd sometimes get freaked out because it's a lot of pressure."
Mclaughlin said, "Cross country is a big strain physically and mentally."
Mclaughlin has been the star runner throughout the season. She has won many medals and even broke her own record with 19 minutes in the three mile. At the Illinois state meet, Mclaughlin received 72nd place out of 209 and had a time of 18 minutes and 49 seconds.
Sterling said, "This season was for sure a success. We had some of the fastest times in five years."
When asked about what keeps her motivated, Mclaughlin said, "I mostly do it for the feeling I get when I reach my goals. It's the best feeling in the world."