Football able to pull some positives out of a rough season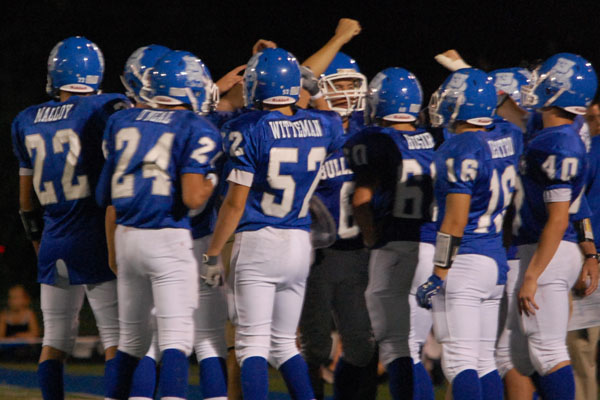 Riverside Brookfield played their last game of the season this past Friday, losing a tough match up to the Fenton Bison 20-10. Fenton played a well rounded game overall, and the offensive attack had no problem putting points on the board. RB was hoping to win that game and tie for conference with the other metro suburban conference schools Glenbard South and Elmwood Park. The Bulldogs finished the year with the same record as last year with two wins and seven losses, and an even conference record of two wins and two losses.
There were big expectations going into the season with the hiring of new head coach Brendan Curtin.
"I think if you look at just the wins and losses, that doesn't show the whole story.  The team did a tremendous job and made great strides this season," said Curtin of his 2012 campaign.
For others though, the season was filled with highs and lows. In his first year as the varsity quarterback, Jack Vandemerkt did a good job of taking over and running the offense. Key wide receiver Joe Odeh's season was cut short due to an injury,  a big disappointment due to the fact that it was his senior season and how valuable he could have been to the offense.
Another positive for the team is that four of the five starters on the offensive line are returning and will be comfortable in their spots and know the offensive scheme next year.
Going into 2013-14, there will surely be doubts about the team's ability to bounce back from a rough year. The Bulldogs are going to need to work hard in the offseason to prepare for the next season. According to Coach Curtin this work will include a more rigorous summer program.
Curtin said this of the upcoming season, "The process is more important than the destination, and preparation is key."
The Bulldogs need to prepare for next season if they truly want a shot at winning the conference title and more importantly improving and growing together as a unit.