New to improv, Dignan heads Shenanigans to first show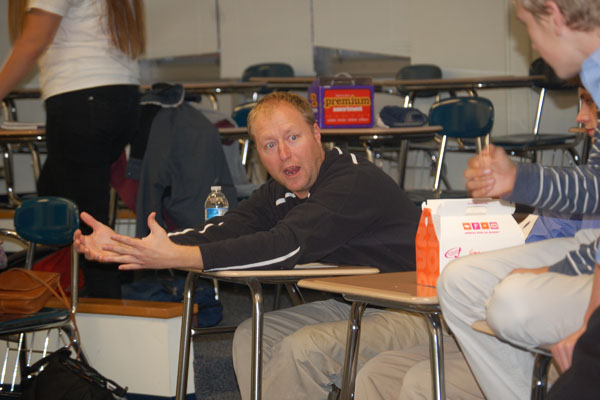 In the midst of changes in sports, clubs, and various other extra-curricular activities this year here at RB, our very own English teachre Tom Dignan has graciously taken on the role as sponsor for the improv club Shenanigans. With the club really taking off in popularity over the past couple of years, being a first year sponsor and running a club like this for the first time could cause Dignan some challenges. Dignan is entering his fourteenth year as an English teacher (fifth year here at RB) and having never done improv before, he is very excited at what can be accomplished in the club this year.
Dignan has never actually done any work with comedy, let alone improv, so being sponsor for an improv club will definitely be a learning experience for not only the students involved but also for Dignan himself. Lacking experience in the genre though won't be crippling to Dignan at all; if anything it gives him more motivation to succeed in trying something new. Dignan has performed in various plays and musicals throughout his career and is currently in a band performing all over the Chicagoland area. Singing and performing are two attributes that Dignan likes to show, so to say he has no stage experience would be unfair. He loves football, cooking, and singing, and his talents in those areas could possibly rub off on his already exceptional comedic ability. Having always had a knack for comedy, Dignan couldn't be more enthused at the opportunities something new like sponsor of Shenanigans has to offer.
"It was sort of a new thing for me," says Dignan, "I like comedy, I like improv and I wanted to take on a new challenge. I wanted to change a little bit in what I do with extracurriculars, so I decided to move on from things like football and decided to help out with Shenanigans and I'm happy that I did it."
Although it's still early in the school year, Dignan is very pleased with the direction the club is going in right now. Shenanigans is gearing up soon for its first show, and Dignan couldn't be more satisfied with not only how the club is going as a whole but more importantly how working with the kids has been and what a great experience it has been so far not only guiding them but also collaborating.
Dignan said, "It's been great! We have a nice mix of kids who have been doing this for years, and kids who have  this as sort of a first time 'go' at it, so now were in the process of putting the finishing touches on our first show which has been a lot of fun. It's a really fun group. They are really talented kids who are good at what they do and it's a blast!"
With Shenanigans being a totally new experience for Dignan, along with the fun and good times come challenges that can test any club sponsor. Having sponsored a school newspaper in the past, Dignan feels that he won't lack experience working with kids and meeting deadlines, though he knows there are challenges he will face.  While acknowledging minor 'speed bumps' along the way, Dignan says that his biggest challenge is the fact that Shenanigans is a performance-based club.
"The biggest thing is I've never done a performance art or club really, so it'll be interesting as we get into a tech week later in the year and things like that," Dignan said. "What's really going to be interesting is to see is if I can keep my head above water long enough to put on a show!" he joked.
There are many fun and exciting things to look forward to this year with Shenangians, but as sponsor Dignan says that he is most looking forward to the first show. Practice, determination, and many hours of effort are put into making a high caliber show that Shenanigans annually displays and Tom Dignan couldn't be more enthused  to just be a part of something great like this club.