Boys volleyball finishing strong as playoffs get underway.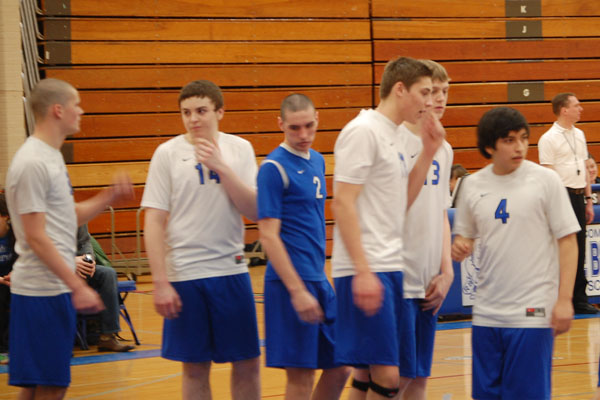 The Bulldogs have been keeping busy over the past few weeks. In a time where most students are stressing out over all that comes with the pre-summer chaos,(Finals, AP tests, etc.) the Bulldogs have found a way to keep their cool in the midst of the madness, as they have been churning out solid performance after solid performance.
On May 11, the Bulldogs had a very solid outing in the Willowbrook Invite, as they placed 3rd overall. Having solid days were Scott LeBeau, Jack Gibson, and junior Danny Nava, who had over 40 assists on the day. Ultimately, however the Bulldogs fell in the semi-finals to the eventual tournament champion, Willowbrook.
The Bulldogs rebounded after the semi-final loss by taking down Hinsdale south on the 13th. The Bulldog effort was led by Mitchel Malloy, who set the most blocks in school history with 10.
The Dogs then took on Fenton for RB's senior night. The Bulldogs came out to play as they honored 8 seniors, as they dismantled the Bison in consecutive sets. The Bulldogs were able to rack up two back to back wins to gain momentum for the playoffs.
The Bulldogs finished with a record of 24-11, a win shy of the best record in program history (25-10). The Dogs look to build on their great regular season with a big post season run. For seniors like Jack Gibson, Mitch Malloy and Jake Fiesler, this will be their last go around so it's pivotal for them to go out the right way. Although the only way to not end your season with a loss is to win a state championship, the Dogs still have a very positive outlook for the playoffs.
"We play to win," said senior Jack Gibson, "We have no intention of losing, so whether we have a short or long run, the mind set will stay the same."
Win or lose, the Bulldogs have had a remarkable season, and it will be another stepping stone for the program that has had quite the renaissance over the past few years.
The Bulldogs made it to the Sectional championship, but ultimately fell short of a sectional banner. The expectations are high and the mind set is positive. Look for the Bulldogs volleyball squad to make another memorable run, to cap off another memorable year.