Lydia returns brilliantly with "Paint it Golden"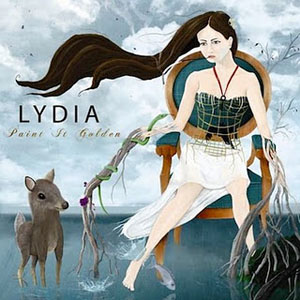 Indie rock band Lydia returned from hiatus in October 2011 with their fourth album Paint it Golden. The members of the band decided to break up and move on to new projects, but two members Leighton Antelman and Craig Taylor kept Lydia going and, about a year later, released Paint it Golden under the name Lydia, though the band has undergone significant changes.
Their previous album Assailants was originally going to be their farewell. Their sophomore album Illuminate was their musical peak thus far, and it was a brilliant masterpiece of an album with thought-provoking lyrics and beautiful melodies.
Paint it Golden is no Illuminate, but it is a great return for Lydia. I feel there is something to be missed without Mindy White, former vocalist and current singer for States, but the album is still one of their best.
The first single off this album is "Dragging Your Feet in the Mud." This song has the same high quality vocals that are expected from Antelman, along with soft harmonies and background piano melodies.
My favorite song off Paint it Golden is "Ghosts" probably because it's reminiscent of Illuminate with a slower beat and gradually getting louder throughout the song, and I love the touch of extreme auto-tune at the end.
Paint it Golden is just slightly more upbeat than Lydia's previous albums, but definitely has the same feel to it. The lyrics are just amazing as Lydia has ever been. Even though Paint it Golden is no Illuminate, it is a great return for what is, in my opinion, the best band ever formed.