Give melodic death metal and Kalmah's Seventh Swamphony a try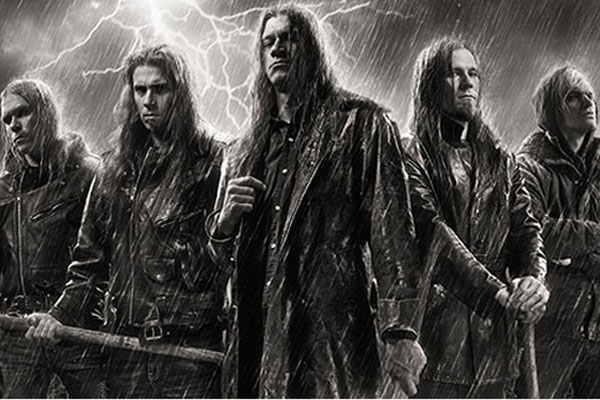 So, lets talk death metal. Non-melodic, scream-y, filled with anger and rage. Then put Kalmah into the picture. Kalmah is melodic death metal. That's right, melodic. And to top it off, Kalmah sings about swamps. How cool is that?
Kalmah is a band that originated in Finland when the band Ancestor split up, and brothers Antti Kokko and Pekka Kokko formed Kalmah with a different lineup. They released their first full length album Swamplord in 2000, followed by They Will Return in 2002, Swampsong in 2003, and so on.  Kalmah puts a small twist on melodic death metal by adding a keyboard to their music and always playing music about swamps and swamp life.   While Kalmah's music is pretty heavy, and has been for their entire career, they do feature a few short instrumental acoustic songs like "Svieri Doroga" off of The Black Waltz. For those who are not familiar with metal, melodic death is a lot like death, with slightly less intense drum beatsand simpler melodies that are not that hard to follow. Kalmah's most recent album, Seventh Swamphony, was released on June 14th, 2013.
And folks, trust me. Give it a go.
There's no question here: this is a rip roaring good time of an album. From the intense opening riffs of "Seventh Swamphony" all the way to the simple and beautifully played "The Trapper", Kalmah once again bangs out a killer melo-death production. If you've been along the whole way with this Finnish band, you could easily hear the progress they've made from 2002's spectacular "They Will Return" and 2006's undeniably heavy "The Black Waltz", adopting a more mature, sophisticated style of songwriting. All eight songs are original, diverse, and without a single dull moment. For fans, this album is a must buy, and for anyone just being introduced to Kalmah, it's a great entry point that will leave you wanting more.
Kalmah (meaning "to the grave" in Karelian), to begin with, knows how to write good songs. They're endlessly original and unique, each song with different moods and lyrical themes, and those lyrical themes are perhaps the most unique thing about Kalmah: they sing about swamps. Yeah, swamps.  That's not to say you're going to hear animal noises and mud splashes, you're going to instead hear a bunch of terrific riffs and solos with lyrics about swamp life. For example: "Deadfall" and "Black Marten's Trace" are about hunting in the swamp. "Pikemaster" is about a swamp hermit fishing. If you were to take out the lyrics, however, you would have melodic death metal. That alone is a genre that's been done over and over again by bands like Be'Lakor, In Mourning, Pictured, Disarmonia Mundi… and the list goes on.
Former Clarion A&E writer Nick Schliep described Kalmah's music by saying, "A cleaner sub-genre of death metal, not as filthy or messy.  Very easy to appreciate."  They play music that happily invites you to always bob your head or tap your feet, whether to the marching pace of "Hollo" or the much faster "Deadfall", and will leave you with a grin on your face unable to leave. These songs never give you a feeling of anger, but instead intrigue and good fun. The music Kalmah plays is phenomenal and is not to be missed.
Apart from nailing the composition side of Seventh Swamphony, they also have a set-up of players that will rock your socks clean off. Antti Kokko (ex-Eternal Tears of Sorrow, a fantastic band) is a spectacular player. Pekka Kokko, Antti's older brother, is a singer that can do clean, growling, and shrieking vocals very well. The keyboards, played by Veli-Matti Kananen, all have a great presence in each song, and fits very well with the rest of the music.
Over the years, Kalmah has acquired a pretty dang high level of quality in their sound and skill.  Even someone not keen on melodic death metal can appreciate them.  Student Jessica Potter, new to Kalmah, said, "Their guitar solos are amazing!"  It's true; Antti could easily light his fret-board on fire, but when they slow it down, it doesn't lose any of its panache. "The Trapper" and "Hollo" are each much slower than the rest of the songs, with a marching tempo and some fantastic head-banging riffs, such as the entire latter half of "Hollo". "Seventh Swamphony", the opening track, is overflowing with everything the band can do. It has acoustic sections, a shredding solo, pounding riffs, everything great about Kalmah. "Pikemaster" is one of the heaviest on the album, never slowing down for a second with the face-through-the-table riffs. "Deadfall", which is my personal favorite song, is a lot like "Windlake Tale" and "Wolves on the Throne", where it ranges from face melting to foot-tapping to head-banging, and are three of the best songs. Every song is a veritable miasma of thrashing riffs and solos that will be unable to let you listen to this without grinning or head-banging.
Kalmah may not be for everyone, I'll admit. The singer is harsh; he screams and growls his butt off, and that's not everyone's cup of tea. Still, there are countless other things about the album that almost anyone will have to admire, and if you ARE a fan of death metal, this is an absolute must buy. It's got great production, great sound, great re-listen value. If you first listen to Seventh Swamphony not expecting much, Kalmah will throw you in the mud of their swamp and leave you to fend and fish for yourself until you come out the other end with mud streaming down your hair and fish in your belly. From there, it only gets better. You'll keep listening to it long after your first venture through the swamps of Kalmah has ended.